HomeGuard Activity Monitor
Easy to Use Parental Control and Activity Monitoring Tools for Family and Child Safety Online and Offline. HomeGuard Includes built in:
Porn Filter
Website Blocker
Keylogger
Activity Based Screenshots
Games Time Restrictions
Printer and File Monitor and Blocker
USB Monitor and Blocker
and More..
Purchase
Download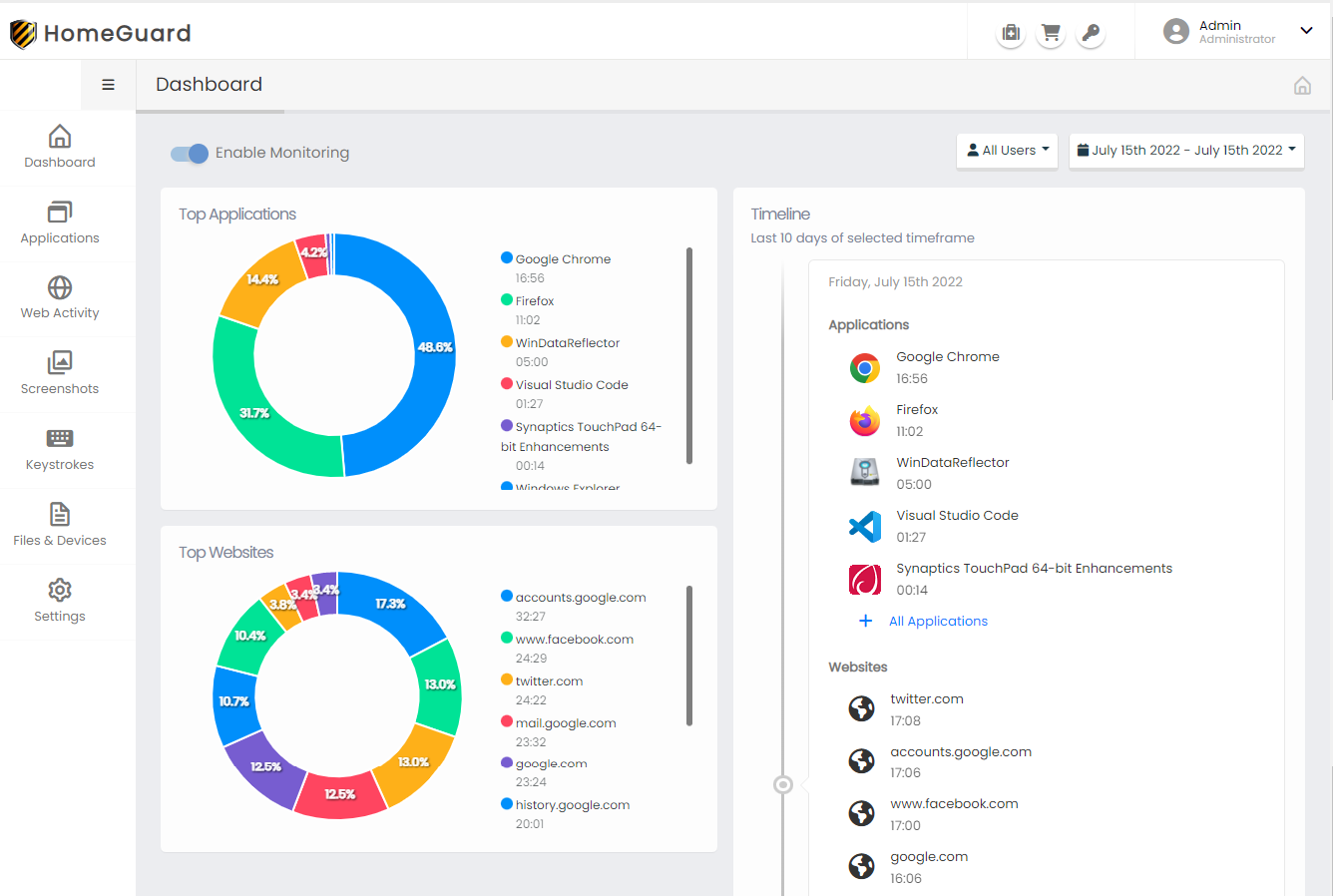 Porn Filtering and Web Search Monitoring
HomeGuard monitors all web activity and automatically blocks all porn in all web pages including social media pages and search engine results. Porn content blocking is page specific and, in addition to blocking all pronographic websites, blocks inappropriate text and images in otherwise unharmful websites like newspapers, blogs and magazines while allowing access to all other web pages of the same websites. Content Filter supports web content filtering in any language not just the default English.
HomeGuard also monitors and controls search engine results and enforces built in Youtube and search engines' Safe Mode as an extra layer of protection.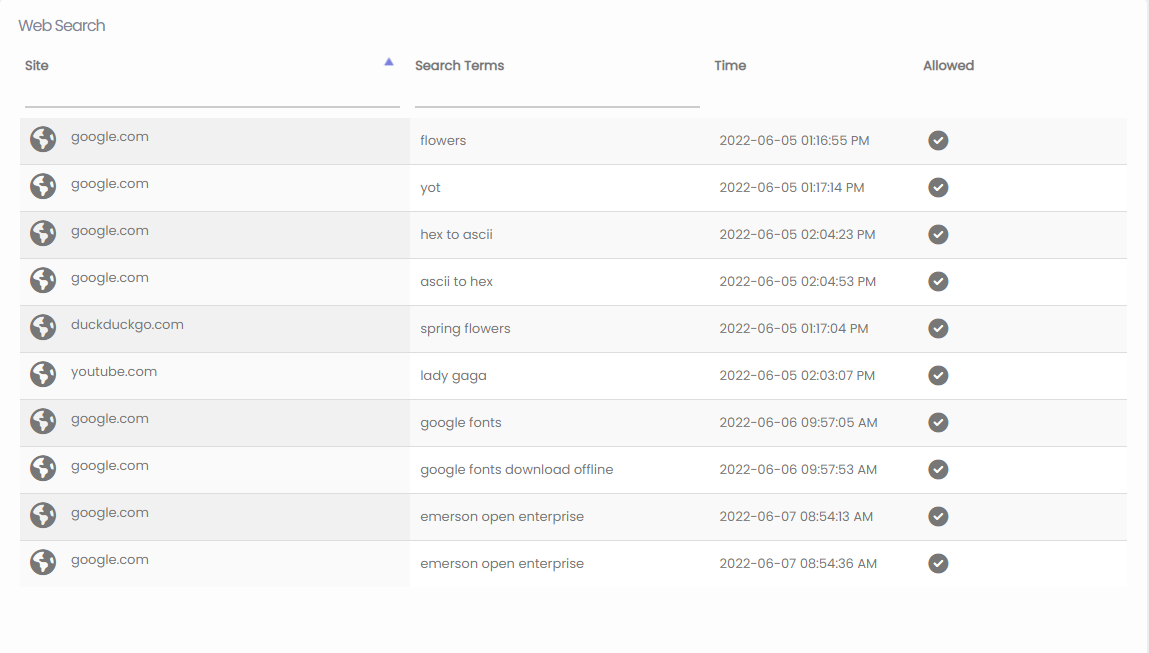 Activity Based Screenshots and Time Based Screen Capture
Record screenshots of actual user activity, like application usage, website visits, file prints..etc
Or Capture user screens periodically, regardless of activity, based on a schedule predefined by you.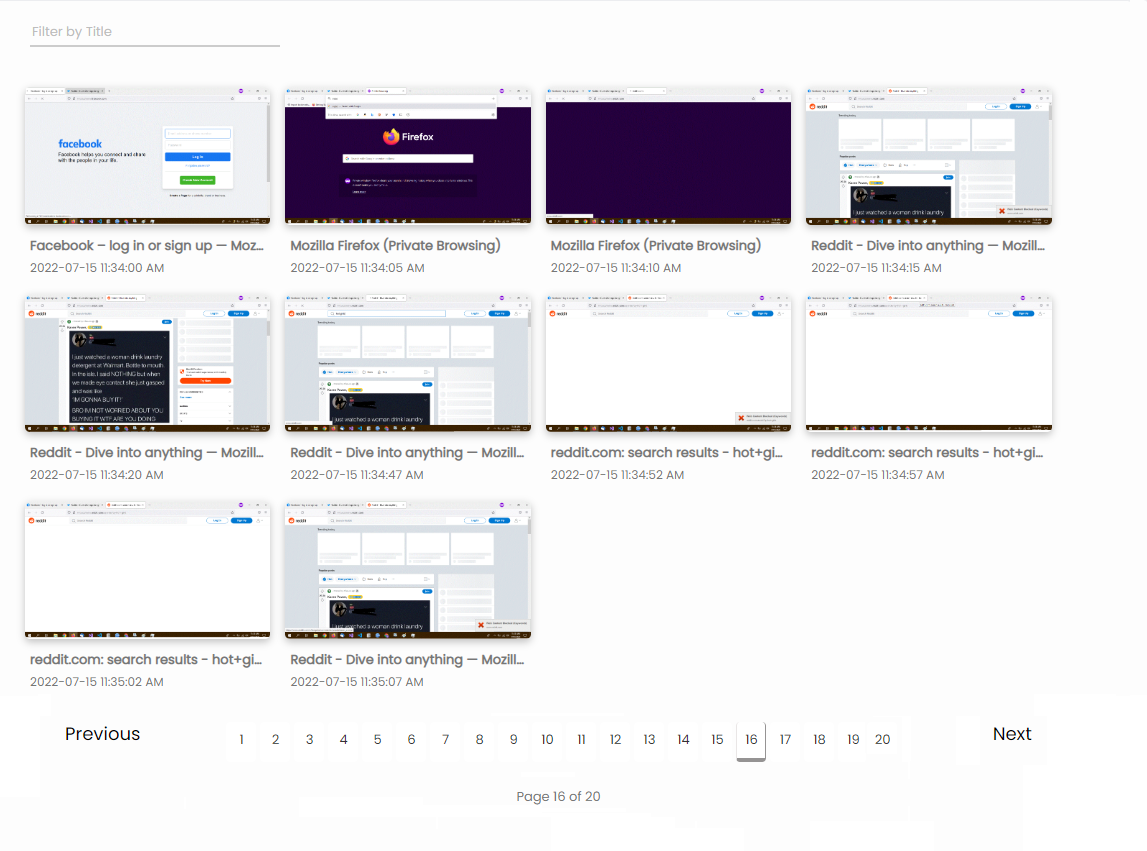 Keystroke Logger
Log keystrokes typed in all applications and websites including social media messages and posts on Facebook, Instagram and Twitter among many.
HomeGuard Keylogger supports non-Latin characters (unicode) it can record everything typed in any language.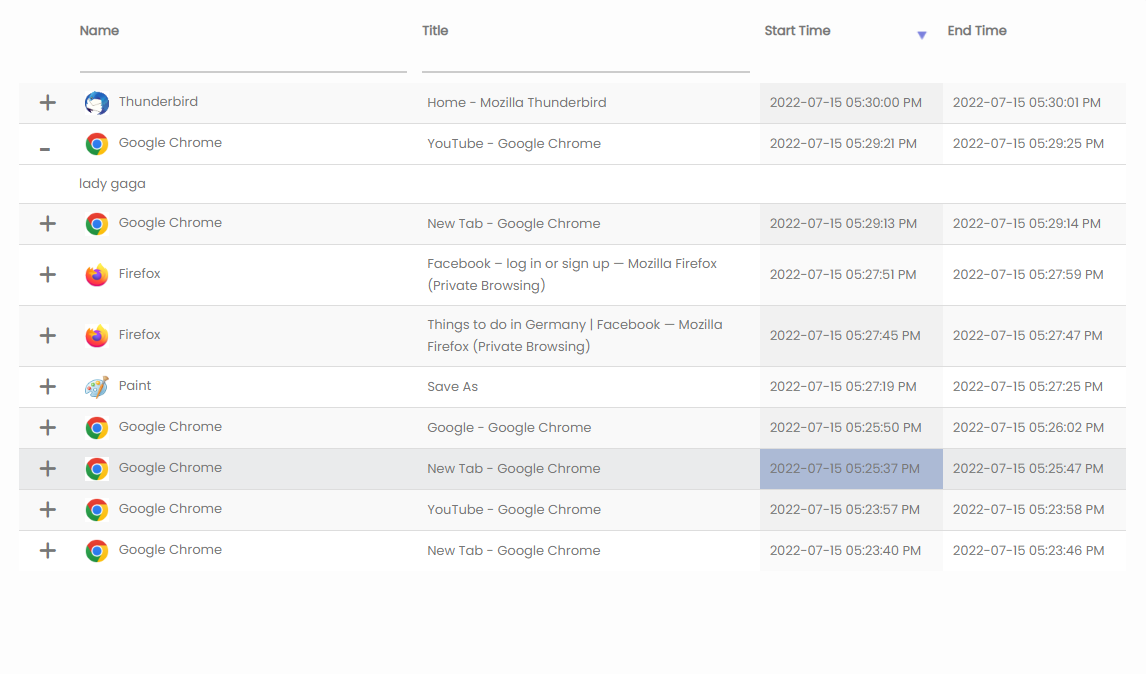 Applications and Games Time Restrictions
Easy to use sophisticated game blocker that lets you restrict gaming times to certain times of day or days of week and for how many hours.
HomeGuard Program Blocker is smart enough to detect program name changes, application updates and attempts to uninstall and re-install an application or game on a portable USB thumb drive or hard disk.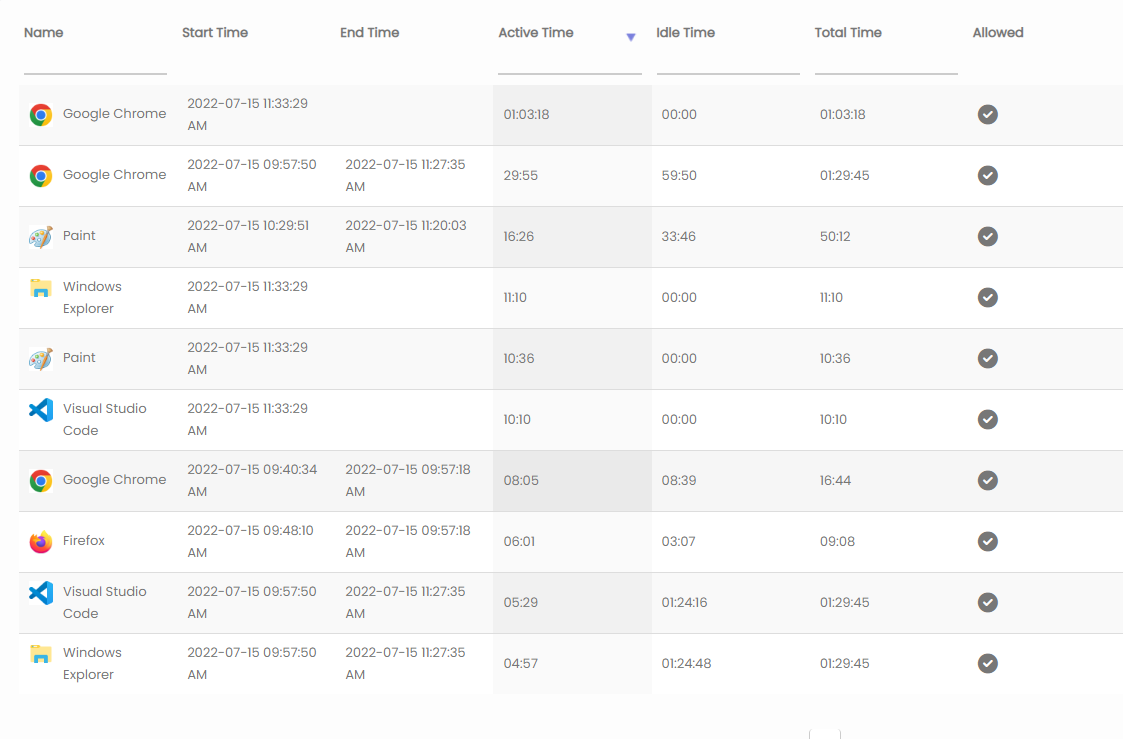 Easily View Monitoring Logs in a Timeline of Activity
HomeGuard summarizes logged activity in a short but comprehensive list of daily activities that you can expand to view full records
Program Activity Overview
Timeline view shows a list of most used applications each day.
Visited Websites
Top visited websites every day can be seen in the time line view as well as all time top websites in dashboard's charts view.
Screenshots of User Activity
Recorded screen activity is shown in the daily timeline in for quickly reviewing user activity.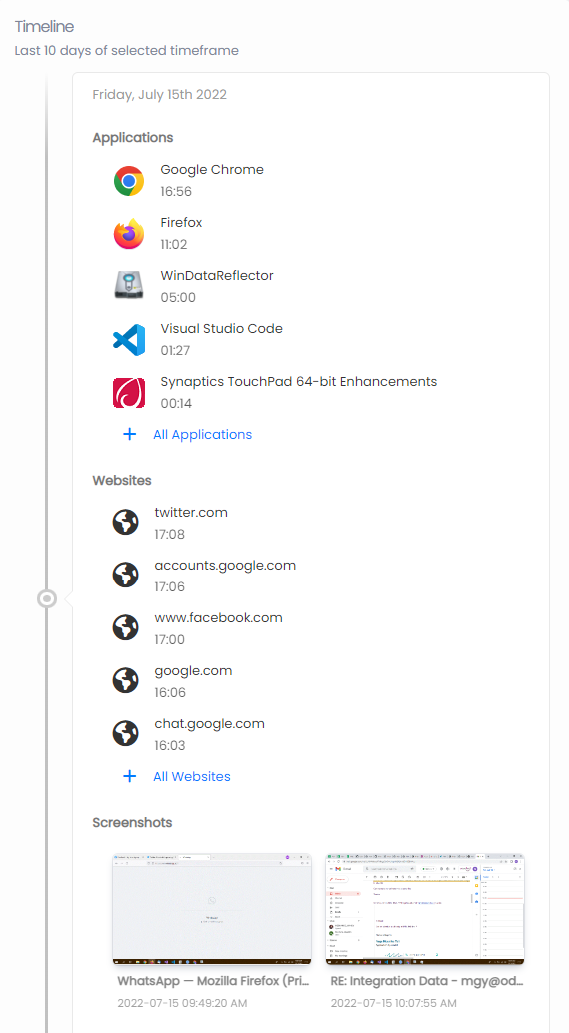 Advanced Parental Controls
HomeGuard Parental Controls and monitoring features are very low maintenance once installed they will require no intervention from you and no configuration is needed for most settings, HomeGuard will silently monitor and record everything blocking any content or activity you deem harmful or inappropriate and optionally send you Email notifications when such content/activity is blocked
Website Blocker
Block and time restrict websites by name and/or address. Or block all websites and only allow a few.
READ MORE +
Porn Filter
Block porn and inappropriate content in all websites and Search Engine results and enforce Safe Mode in Google, Bing and Youtube.
READ MORE +
Internet Time Restrictions
Limit Internet access to certain days of week and times of day.
READ MORE +
Keylogger
Record everything typed in applications, websites and games.
READ MORE +
Screencapture
Activity based screenshots triggered by user computer usage and time based screenshots recorded periodically.
READ MORE +
Social Media Monitor
Block and limit access times to Facebook, Twitter, Instagram and Youtube. And record everything posted to Social Networks.
READ MORE +
Application Blocker
HomeGuard can set time limits for an application or for a group of applications (e.g.: games) and total time allowed per application each day.
READ MORE +
USB Devices Blocker
Protect against malicious files, unauthorized application installs and files theft by block USB drives.
READ MORE +
File and Printer Monitor
Protect your files from being deleted or moved. And monitor and block printing of files.
READ MORE +
HomeGuard is Tamper Proof!
It cannot be bypassed using proxy servers

Doesn't show up in Task Manager

Cannot be uninstalled or removed

Cannot be circumvented by changing system time

Time of visit and for how long the website was used.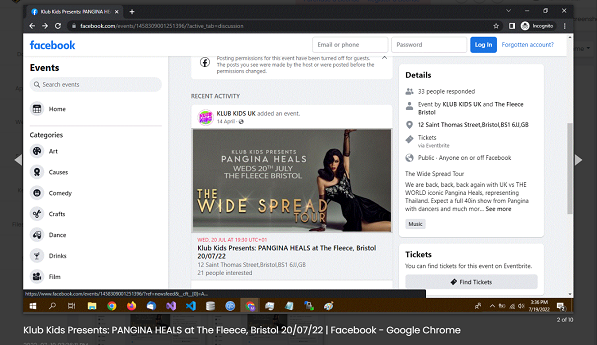 Screenshot of visited website.

Everything typed in the website along with page title.
Record Every Detail of Internet Activity
Record Restrict Time Spent On Social Media Websites and Words Searched For Online, Block Web Content Types and More
Block and monitor websites access using blacklists: blocks websites on a defined blocking list and allow access to all other websites not on the list, and whitelists: allow access only to websites on a defined allow list and block all other websites.
Effectively block porn and inappropriate content in websites, chat/instant messages and Email. Filter websites by name, filter content by type, e.g.: block all online video types or exe downloads. Blocking video in websites may be useful for blocking inappropriate content in normally non-porn sites like youtube, vimeo...etc and also in work environments for saving bandwidth on your network.
HomeGuard also offers a network monitoring feature for tracking applications usage of the Internet, capturing network traffic details for each program.
End Gaming Addiction, Block Any Application
Limit Time Spent Playing Games or Any Type of Application
Works on the deepest system level, HomeGuard is impossible to bypass and disable without the administrative password. And with its detailed visual reporting it is very easy to track productivity as well as anticipate and stop harmful behavior.